Wireline Logging
Menu
Definition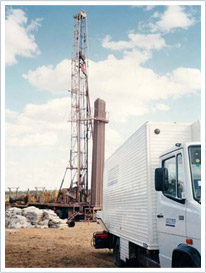 Geophysical logging: Operation performed in a well recently drilled in sedimentary rocks, in order to analyze the ground to ensure the placement of filters in the most appropriate production and obtaining the best water possible. In other words, the analysis of a set of geophysical profiles can provide the following benefits to your well:
Increased well production life.
Lower maintenance costs.
Maximum water flow with good quality.
The practical result of the quality loggingoffered byHydrologis the lowest final cost per cubic meter of water produced.