Wireline Logging
Menu
Logging Operation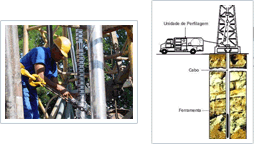 The GEOPHYSICAL LOGGING is the best known method for defining potentially producing layers. It enables a detailed, accurate analysis of the lithology , elastic properties and fluid content of subsurface rocks.
The Loggingisperformed, preferably in sedimentary rocks, using tools or equipment called probes, which are descendedinto a tubular wellthrough a specialcable.
HYDROLOG offers services within the Geophysical Logging Standard API (American Petroleum Institute).